Dear Motorcycle Community

We are living in extraordinary times all over the world.
We are restricted, nothing is as it was.
It all sucks and it's hard to hang on.

But, it will pass.

We bikers know these situations.

We remember the trips home or back with the motorcycle in the rain and sometimes snow.
With every kilometer it gets colder and wetter.
The raindrops run steadily along your spine to finally collect in your underwear and shoes.
Your hands almost can't hold the throttle anymore and dirt collects on your visor.
The kilometers get longer and longer, you know if you stop now you have lost.
It seems endless and yet eventually you come home and when the story is told it's all funny.
It passes!

Or the classic breakdown or "out of gas" very well known to Vmaxxers on a blazing hot day in an area that is completely remote and there is no cell phone reception.
Your feet swell in your motorcycle boots, your clothes get hotter and hotter, and the bike you're pushing gets heavier and heavier with every mile.
And yet, eventually you arrive or find help and then when the story is told, it's all funny.
It passes!

It will be the same with Corona.
We will be proud that we got through it.
We will laugh about how we were stuck in our home and how we had to wait in line everywhere.
We may miss the peace and slow life.

But it will pass!

Welcome to Motorcycle short stroke throttle.
The problem of often too long gas paths in motorcycles has caused us to take remedial action here.
Since 2009, we develop and produce gas shortcuts for a variety of motorcycle models. Our short-stroke throttle grip adapters shorten the gas path of the motorcycle depending on the model of 17,5-25%.
Of course, we pay attention to high-quality workmanship and materials.
All gas shortenings offered by us were extensively tested by ourselves or test drivers. The development and production takes place exclusively in Germany.
Due to the great response, we present here own shop exclusively with short-stroke gas handles for a variety of motorcycle models.
Schwabenmax
is your competent partner in motorcycle tuning and refinement.
Visit our main shop with a comprehensive motorcycle accessories in premium quality. Specializing in Yamaha Vmax, Suzuki GSX 1400 and K1200R models.
You are welcome to visit us in our shop by appointment and inspect the items on the spot and buy. Of course, we are also happy to help you by phone with advice and assistance.
New models for our short stroke throttle.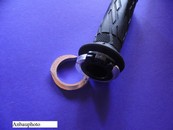 KHG-KT-D1.0